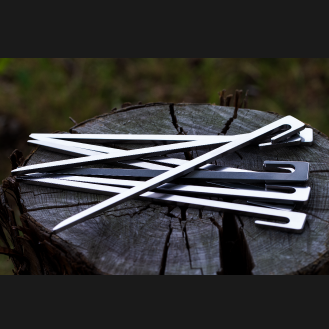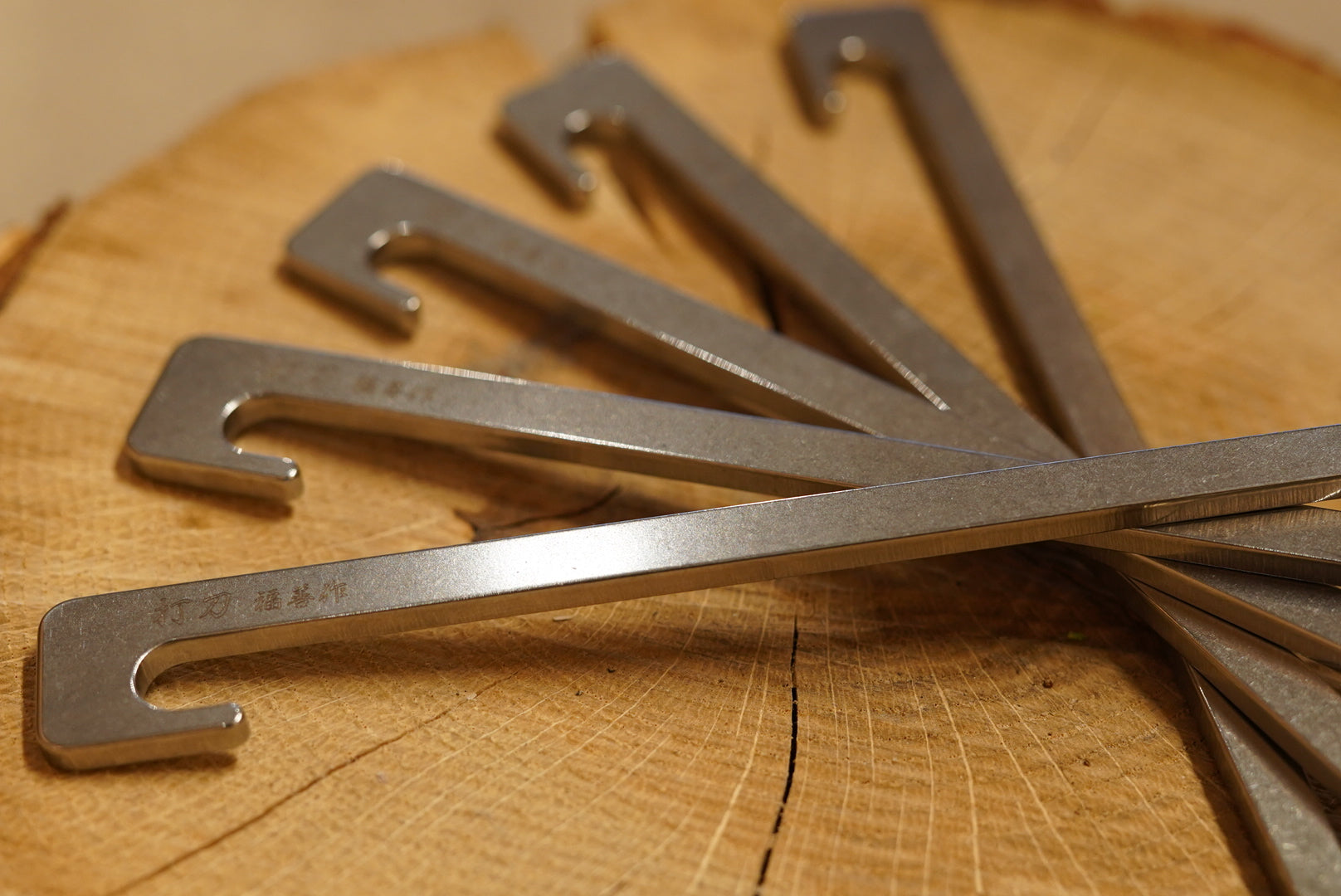 Stainless steel camping peg "Uchikatana" 20cm
In stock
Pickup available at 大阪府堺市西区鳳北町10丁48-101
Usually ready in 24 hours
Stainless steel camping peg "Uchikatana" 20cm
大阪府堺市西区鳳北町10丁48-101
Pickup available, usually ready in 24 hours
593-8328
大阪府 堺市西区 鳳北町10丁48
101
Japan
+819019051775
[Features] 1. High strength ◇Hard like a knife and hard to bend◇ Uses stainless steel for cutlery that has undergone the same vacuum heat treatment as the cutlery manufacturing method. The tip is hard to crush because it is hard like a knife, and it is as hard to bend as a forged peg. Because it is sturdy as mentioned above, you can drive it steadily even in places with many stones without worrying about it.
(2) Lightweight ◇ Approximately 39g per peg ◇ Thickness of 3.5mm and weight of approximately 39g, about half the weight of forged pegs of the same size.
(3) Compact storage ◇Stackable storage possible◇ The rectangular flat plate shape allows for stacking.
④ Design ◇ Beautiful and rust-resistant like a Japanese sword ◇ Adopting a tip shape inspired by a Japanese sword, it has a beautiful and luxurious appearance. All sides are chamfered to prevent damage to the rope. In addition, the special stainless steel for cutlery makes it resistant to rust.
⑤ Function as a peg ◇Excellent fixation to the ground and easy to pull out◇The power to be fixed to the ground is equivalent to that of a forged peg of the same size. When retracting, you can easily pull it out by rotating the peg. Summary of videos posted by users on Youtube about "20cm Uchikatana" https://fukuzen.shop/news/5f9b7dc9b00aa32f162458c5
Size: Length 200mm x Width 18mm (Maximum insertion part 7mm) x Thickness 3.5mm Weight: Approximately 39g per piece Material: Stainless steel for blades (quenched and tempered) Country of manufacture: Japan Number of sets: 8 For those who order Pekes, we enclose one "Uchikatana Sticker" as a gift for each order.
【please note】
◇The stainless steel plate for cutlery used in this product may have scratches or dents at the material stage. Although we perform careful surface treatment, we cannot completely remove all scratches and dents. From the viewpoint of effective use of materials, we will ship products with scratches and dents that do not cause problems in use as non-defective products.
◇Because this product is heat treated, the pegs may warp. We have devised ways to reduce warpage during heat treatment and correct warpage, but please understand that there may be some warpage that does not pose a problem for use.
◇Please be careful not to get heat when using this product around fire such as bonfire. There is a possibility that the robustness that is a feature of this product will be impaired, and it will not function sufficiently as a peg.
◇We use stainless steel cutlery that is very resistant to rust, but it does not mean that rust will not occur at all. Wipe off moisture and dirt after use to prevent rust from forming.
◇ Burrs may occur after using this peg. Burrs can be removed by rubbing them several times with pebbles.
◇When pulling out the sword when it is withdrawn, remove the guy rope or weaken the tension of the guy rope with a free fitting so that the load is applied only to the sword. If you pull out the guy rope while it is sandwiched between the peg remover and the knife, the guy rope may be damaged or cut.
20cm sword storage case Click here for "Pekes (Kurashiki canvas)" https://fukuzen.shop/items/5f61d1958f2ebd13ab87b026 Click here for "Pekes (X-PAC)" https://fukuzen.shop/items/62135e4ac15c5a31d36c7369
*This product (Uchikatana) is a registered design and trademark.
Design registration No. 1685748 Design registration No. 1696744 Design registration No. 1723896 Design registration No. 1723897 Trademark registration No. 6445196