Hello!
This is the feeling of YURAGI OUTDOOR!
It's been less than 3 weeks since the EC shop opened in February...
I received a story about opening a store at an outdoor event this time!
This is "Wanterasu dog&outdoor Marche" held in Inabe City, Mie Prefecture!
What kind of event is
Sponsored by Yamaterasu, a campsite where you can go with dogs
This is a marche for dogs and outdoor vendors.
In addition to the keywords "dogs" and "outdoors," we will of course enhance the "eating and drinking booths" such as food trucks. We are also inviting local product booths in the suburbs.
A bit different from the market in the city center, such as free dog run for member dogs
Enjoy dog ​​x outdoor x region x food marche "Wanterasu"
I just get excited. . .
I've always loved events like this, and I often go to them regardless of whether they're outdoors.
Rather than nationally famous events, I prefer relatively small-scale, local, community-based events.
Event details! ↓
<Date and time>
April 16th (Sat) to April 17th (Sun), 2022
10:00-15:00 on both days (planned)

<Entrance fee>
Admission is free.
There is a parking fee of 500 yen per car.

<Venue>
At 728-2 Kanae, Fujiwaramachi, Inabe City, Mie Prefecture (inside Bairin Park, Inabe City)
・Yamaterasu area (outdoor, local government, eating and drinking)
・Kamaboko area (dog goods, food and drink, local specialties)
held in 2 areas!
*Changed from the previous gravel venue. (This time, the ground of the venue is asphalt, which is friendly to carts and paw pads.)
<event>
・Free dog run for members on the day (usually ¥1,100/dog for visitors)
・Professional photographer's photo session (charged)
・Present lottery by stamp rally
*Events are subject to change

Information on vendors, etc. will be released sequentially on the special site from around March.
Traveling with a dog is a bit of a hurdle.
But I'm reluctant to leave it somewhere...
The current doggy-friendly facility is expensive...

A must-see for such dog owners!
At Yamaterasu, you can have a casual trip with your dog in the form of an outdoor trip.
Of course, you can use it as a campsite with a lot of accommodation variations other than dog owners!

In a location overlooking the mountains of Fujiwara, Inabe City, spend time with your precious family and friends while being illuminated by rich nature.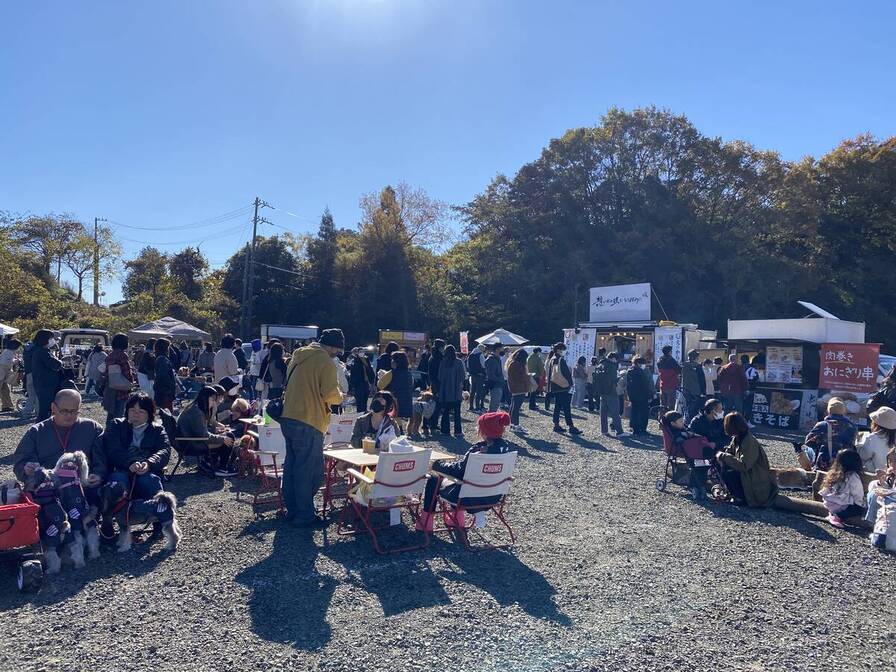 Starting with outdoor booths, dog runs, food trucks, local produce booths, and so much more.

First event stall. I will do my best to satisfy the discerning campers ☺️
Thank you for reading to the end this time ☺
I would like to write about the atmosphere after the event in another blog.
Quote: [Inabe City, Mie Prefecture] Yamaterasu -FUJIWARA OUTDOOR LIVING- (yamaterrace.com)