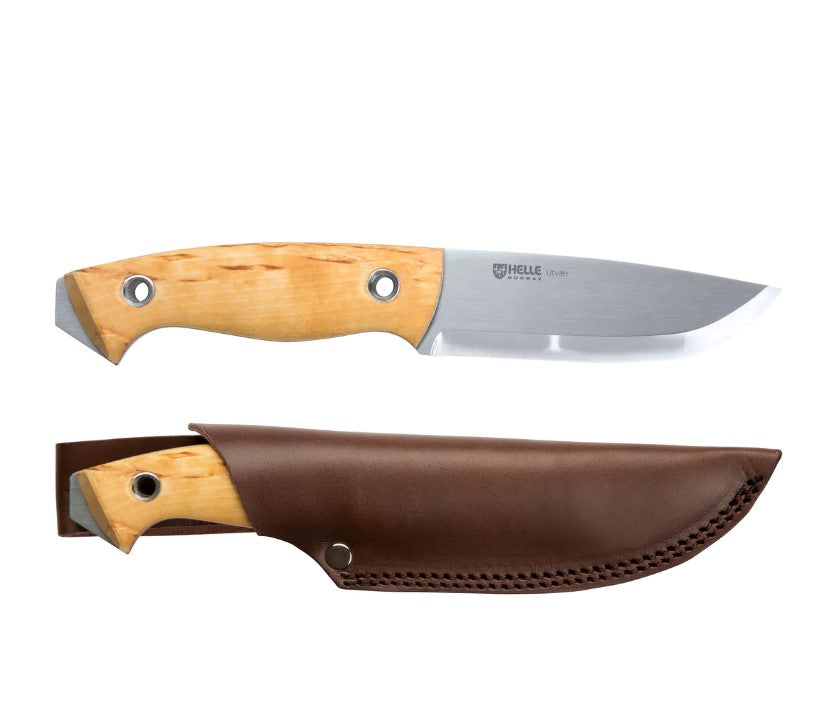 HELLE UTVAER
Pickup currently unavailable at 大阪府堺市西区鳳北町10丁48-101
大阪府堺市西区鳳北町10丁48-101
Pickup currently unavailable
593-8328
大阪府 堺市西区 鳳北町10丁48
101
Japan
+819019051775
The Utubera is a full tang knife designed to withstand traditional bushcraft usage. It is named after the westernmost archipelago region of Norway. Developed in collaboration with Danish knife designer Jesper Voxnaes, known for creating beautiful and durable knives. Aimed at meeting the strong demand and demands for field knives, it adds a modern twist.

The blade is a Scandi Grind made from Sandvik 12C27 stainless steel with a 3mm blade thickness for cutting and carving. The hand-formed curly birch handle is slightly slender in size for small to medium hands and is reinforced with two rivets to secure it to the blade. The rivets are hollow so you can pass paracord or leather straps through them, and the pommel is longer for more demanding work.

Comes with a high-quality leather sheath with belt loops.
Item Number 600
production year 2014
design Jesper Voxnaes
accessories cross
blade material Stainless steel (Sandvik 12C27 stainless steel)
pattern material Curly birch, Vulcan fiber
Sheath material Leather (genuine leather)
size Blade length: 102 mm, blade thickness: 3.0 mm, handle length: 120 mm
Weight Knife weight 160g, sheath weight 50g
country of origin Norway