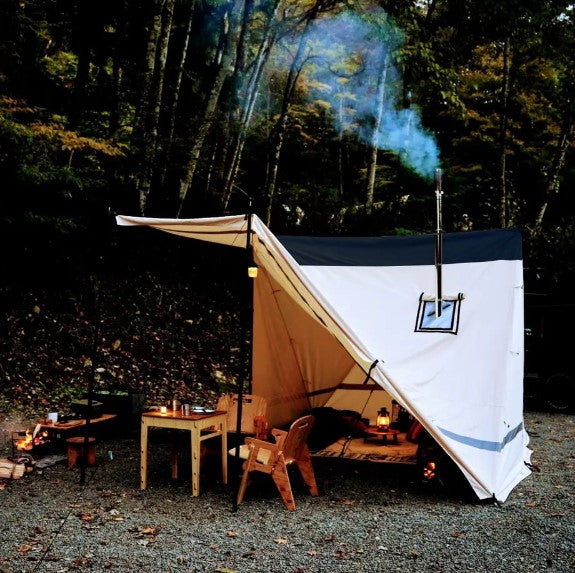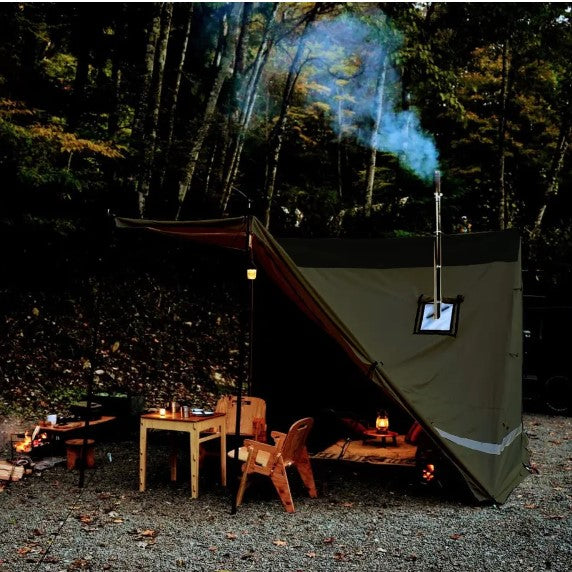 YOKA CABIN <Basic set / 4 poles>
Only 1 unit left
Pickup available at 大阪府堺市西区鳳北町10丁48-101
Usually ready in 24 hours
YOKA CABIN <Basic set / 4 poles>
ivory
大阪府堺市西区鳳北町10丁48-101
Pickup available, usually ready in 24 hours
593-8328
大阪府 堺市西区 鳳北町10丁48
101
Japan
+819019051775
A highly livable tent that combines the style of a baker tent with the structure of a pup tent.

Minimum configuration: main unit ¥69,000 + 2 sets of 4 poles ¥11,000 = ¥80,000 + tax
body
This tent was named "YOKA CABIN" because it is a comfortable space like a guest room.
The material adopts TC, and it can get along better with the bonfire.
For YOKA TIPI, which is popular as a solo to duo size,
This is a tent that is easy to use for duo to family.
Available in the same "dark khaki" color as YOKA TIPI and the new "ivory" color.
The material is TC, making it a tent that can get along better with the bonfire.
*Dark khaki can look green or brown depending on the lower limit of the day.

<Characteristics of each color>
Dark khaki makes the room feel dark, but has high light blocking properties.
Ivory gives a bright feeling to the room, but has low light blocking properties.
This part will have your logo.
As a design feature, first of all, it is an asymmetrical style with a different balance between left and right.
And the sub-pole raises the back to eliminate dead space as much as possible.
This is also a design feature.
As a result, vertical walls can be created on three sides, making it more livable with a "room feeling".
There is another divider in the middle of the tent that separates the bedroom from the vestibule.
(This partition curtain is attached with a zipper, so it can be removed.)
A chimney port for a wood stove is also standard equipment. It can be installed on the anterior chamber side.
It can be left half open with the wood stove attached.
Various tension methods such as full-open, half-open, and side-open are available.
The pole and sub-pole connect to the main body like this.
The zipper comes off when you open it.
Floors and mosquito nets are available as options.
The ventilator enters the ceiling part in a row.
The skirt can be rolled up with a toggle.
Horizontal curtains for rain protection are also included on the left and right.
This is a separate part, and it will be in the form of being connected with a zipper.
Dimensions are as above.

Please refer to this video for how to set up the tent.
Pole
The optional pole is steplessly telescopic. 90 cm to 230 cm in length.
The color is matte black.
When the cap is removed, it can also be used as a tarp pole.
It is made up of 3 sections, but if you extend the 2nd section, you can see the logo.
These poles are sold as a set of two.
mosquito net
A mosquito net that completely covers the interior of the bedroom.
The shape looks something like this, it is shaped like a wall surface.
Because it is a mosquito net, it is not left open,
There is no toggle to roll up the entrance diagonally.
However, you can roll it all up.
When fully opened, there is a large window of approximately 270 x 220.
ground sheet
A bathtub-shaped ground sheet with a raised edge of 12 centimeters.
The size is 250x200x12cm in height when the zipper is closed, and 274x224cm when it is open.
All four corners are zippered and can be completely flattened.
It has a logo.
ground sheet half
It has eyelets on all four corners. A flat ground sheet.
Although it is limited to two people,
In this way, the cot can be placed on the ground and only the feet can be removed.
The size is 135x220cm.
It's just a flat sheet, so you can use it as a picnic sheet outside of YOKA CABIN,
I think it would be good to use it with YOKA TIPI (floor area 270x270cm).
It has a logo.
Pros and Cons of YOKA CABIN
■ Advantages
・Exquisite size It is meaningless if most of it is dead space just by being wide.
The 270 x 220 bedroom surrounded by nearly vertical walls,
It is a very comfortable space with a good balance between proximity and spaciousness.
If you just sleep on the floor, I think you can sleep 4 people,
Considering that you can put your luggage etc., basically it is a size that can be used comfortably by two people.
・Since it is a TC material that is resistant to open fires , it is more resistant to fire than nylon and polyester.
(It just won't melt, but it will burn, so it's best to be careful.)
- Condensation-resistant TC has good air permeability, so there is almost no condensation.
・Because it dries quickly and is large, it tends to be thought that drying is difficult, but because the fabric is breathable,
You don't have to stretch the fabric exactly and dry it on the front and back.
■ Disadvantages
・There is a heavy body of less than 12 kg. It's also big, so it's hard to handle.
・Although the TC material, which is weak against rain , has been treated to be water repellent, water will seep into the fabric if it is exposed to rain for a long time.
Also, fabrics soaked with water become very heavy.
"When water soaks in, the cotton part swells and prevents further water from entering."
That is the characteristic of TC material,
At that time, the inside of the curtain will be wet, so please be careful.
Also, especially if the rain stays on the ceiling, it may leak, so
please note.
・Because the side that is vulnerable to wind is vertical, the main unit is susceptible to wind.
Since the ropes are placed at key points, there is no problem in terms of strength.
I think that there are times when the fabric is blown by the wind and is noisy.

when the wind is strong
①Fully close and put away the wood stove
② Hit all the pegs
(3) Please devise ways such as attaching a support rope firmly .